I never realized how much impact the lock down created on people until I stumped the Notting Hill Carnival ground.
Hey, guys welcome to another life experience with your girl, this time it is my experience going to Notting hill carnival.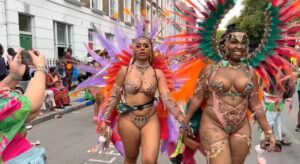 Guys believe it or not, I have never been to carnival before in my life, not even the popular Notting hill carnival.
Everyone seems surprised when I say that considering the fact that I am an out and about type of girl but the fact is, I have only lived in England for 4years. 2 out of the 4years was spent in lock down.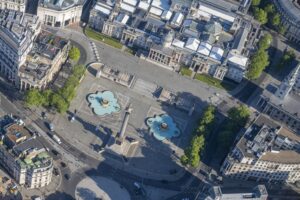 You see what I mean? EXACTLY, so stop judging 🙂
This takes me back to my initial statement when I said, "I never realised how much impact the lock down created on people".
Yes I never did. Let me tell you why.
The carnival was scheduled to start from Saturday 27th to Monday 29th of August 2022, which by the way was a bank holiday as it had always been so that people will be able to attend the event.
From my calculation, I taught that Saturday would be the perfect day for me to see the opening ceremony, besides I felt that it would be less crowded and then witness the band parade welcoming the carnival according to the website.
Babeee, your girl got there roaming the streets of Notting Hill with thousands of people expecting the same thing as I was. There was no band parade but there is something else.
People from different parts of the world was already on ground for this Carnival. The Americans, French, Germans, Diverse Caribbean countries etc. etc. etc. I was just hearing different languages left right centre but we all have one thing in common which was,
Where is the band parade? At least I am not alone.
We got to this stand where a lovely lady was selling sunshades. She was full of positive vibes giving it to us in real Jamaican patois (Creole) tongues. Oh dear, I fell in love with her instantly.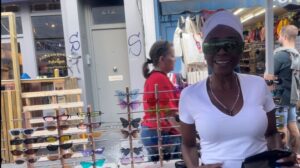 Anyways, She gave us the actual breakdown for the event plan saying that:-
Saturday, There was actually nothing special
Sunday is for kids, the handover parade and others, though adults will be there also.
Then Monday is for Adults.
I was like damn I see why my Caribbean colleague friend whom informed me of the Carnival took holiday to be there on Monday.
In addition, she goes on about saying, you people did not even bother to look up the website to know the event plan, Is that how you all have missed the event?
Now that is the point I was at. Even though I looked the plan up on the website but maybe, I did not read thoroughly because no matter how much we try to convince ourselves that we were ok with those lockdowns, we were never ok. It was not good for our whole being, body and soul. Everybody desires to get out and feel real good. I was looking but I was not looking because I was already at the carnival ground in spirit 🙂 🙂 🙂 🙂
People missed people and People missed celebrating together.
Nothing was planned on that day but there were thousands of people out there roaming the streets,
Enjoying pockets of street dance parties here and there.
Things to experience at the Notting hill carnival
There were line-ups of different things to buy ranging from foods, jewelleries, costumes, handcrafts, unique blinged-up trainers, drinks, pastries, etc.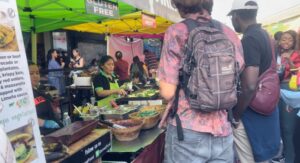 I mean anything and everything was there.
I queued up for almost 2hours just to get me one jerk chicken wrap. Well the wait was worth it though because that was the tastiest wrap I have had in a very long while.
You know after she told us that nothing was planned for the day. I was actually expecting everyone to get angry, turn around and go home.
That did not happen. We all continued our exploration because there was a lot to see even without the parade. Just the colourfulness of the streets is so energizing.
I danced, chatted, made few friends and I can honestly see that people were happy.
Is Notting hill carnival ground full of butt grabbers, knife stabbers, criminal and gang groups.
I did see many faces that your head will immediately tell you, be careful. However, other than that, I did not see any attack and I do not think they are looking for who is not looking for them. I am sure you know what I mean.
Nobody grabbed my butt but again I did not dress provocatively and I was just minding my own business.
At the chicken wrap place, some guys with built up chest tried to disrupt the lines because they felt too big to be on the Queue and one even tried to run away with the chicken wrap without paying for it. Nevertheless, they were quickly put in their place so everyone was cool.
There was lots of ganja smoking and all that but like I said earlier, I stayed in my lane and I did not stay until it was dark.
After eating my jerk chicken wrap, I joined another dance party by the park until late evening.
Then I went to South London for some Salsa dance, which I was invited to.
I will definitely attend carnival again whenever I can.
What age group is meant to attend the Notting hill carnival?
By the way, there was this believe that this carnival is for teenagers and young adults.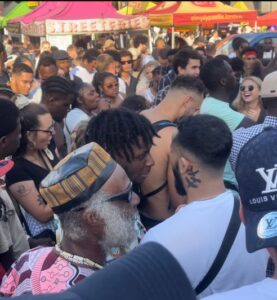 This is not true. I saw people of all ages there having their own experience in their own vibe. Again maybe it is the lack of freedom from the 2years lock down that broke the barrier, I do not know but I will say, there is something for everyone no matter your age as long as you are in carnival-filled spirit.
I heard day two and three was massive fun. Where you there? Please feel free to connect with us on our social media platforms and tag or Share your experience with us. Here are the links:- @TherealTellasis/Twitter,  Tellnotor Tellasis | Facebook, @SimplyTellasis/TikTok
Bye.