This is a perfect smoothie that will heal your body and help nourish and moisturize your skin, to help your skin glow, looking ever youthful. It will also keep you energized and fuelled for the day.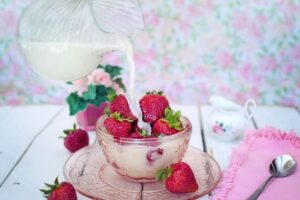 My love for smoothies started when I discovered how much I have healed from inside out since I started taking smoothie. I had always had breathing challenges since I know myself. 24/7 blocked nose, breathing most of the time through my mouth and talking through my nose. As a child they said I will outgrow it but none of that happened.
Actifed, franol and vitamin C tablet (that sour one) was never out of stock wherever I am, Later inhaler was added to it. This greatly affected the way I live my life because I don't get to do anything and everything I want to do like sports, staying away from home, certain kind of environment etc. because I don't want to trigger it. Yes, avoiding things did help reduce the constant attacks but never stopped it until my new found routine and habit emerged.
The necessity to figure out how to eat well to avoid gaining weight and stabilize my body as a night shift worker, launched me into smoothie making. One year into this journey, I realised that I have never had any breathing challenges, not even the constant flu that was like a lifetime signature I was known for. I guess I am healed, I taught. Wow!
Then I decided to start keeping data of all the smoothies I make and how they made me feel. This had been a journey of over 5years, I have healed and learnt a lot from this journey that I know will benefit you.
Following the most popular question I get, what body cream do you use that makes your skin glow?,
Today I am finally sharing with you my now not so secret smoothie recipe that helps keep my skin glowing, nourished and moisturized.
Note, Good gene has its addition there but even with that you need to botch it up with good food like this smoothie. By the way if you want my body lotion and wash, Aveeno moisturizing lotion and body wash is all I use.
Regardless of any kind of cosmetics make over you get, your habits, lifestyle and what you eat plays an important role. You are what you eat.
This is a perfect way to get in fruits and nuts into your body, avoiding sweets especially for kids and the elderly too
This smoothie should be part of your life, A daily inclusion in your life
This is exactly why I am reaping the benefits.
I use most fruits and nuts that are high in Vitamin E to enable me achieve the required result such as Almond nuts, plus other fruits that are rich in fibre and other vitamins that supplements each other for burst of richness in taste and potent nutritional values. And finally using my high-speed blender Tefal, ensures that everything got blended perfectly.
Milk
Instead of milk, I use almond nuts itself and natural probiotic yogurt called kefir to bring out the creamy smooth look and burst of richness in its taste. You can switch it with whatever works for you in case you are allergic to nuts or milk. The almonds is also filled with lots of vitamin A and fibre.
If you make this smoothie, be sure to share a picture on social media and tag me @TherealTellasis @simplytellasis and #tellnotortellasis so I can see your creation.
Full Recipes
The perfect smoothie loaded with fruits, fibre, protein and vitamins that will heal, nourish and moisturize your body to give your skin that perfect glow you ever desire yet absolutely perfect to make up for your breakfast.
Prep time: 5mins
Ingredients:
3 pieces of Dates
1 inch ginger chunk
1 handful Strawberries
1 handful Almond nut
1 Banana
1 small cup kefir yogurt
1 cup bottle or filtered water
3 ice cubes if you desire (In case you intend to drink it right away)
Instructions
Wash and place all the ingredients into a high-speed blender and blend until smooth, about 60 – 90seconds depending on the power of your blender. Now that I have a blender with timer, I prefer to use the smoothie setting timer on my blender, it blends perfectly. If you have that, go ahead and use it, if not the timing above should do.
Category – Breakfast
Serving – Serves 2