As I stepped out today on my way to work, I felt the fresh breeze brushed through my face and then all over my body.
Mild evening sunshine, No heat waves at all. Just normal calm summer evening weather suitable for a walk.
It took my mind back to last week Monday and Tuesday (18th and 19th of July 2022) when I stepped out of the house at exactly 5:10pm to get to work.
Oh, my days! I got the hottest flash of heat wave I had never encountered in my life.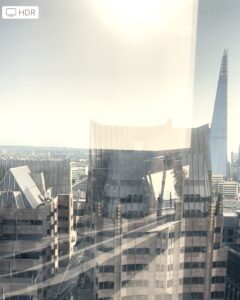 You need to see the way I ran back inside like a vampire exposed to light 😊
It's funny now but that day it wasn't because I wasn't ready.
Those were a record-breaking heat wave moment in England beating 2019's heat wave which was at 38.7 °C (101.7 °F) just before the pandemic started and I heard it was like that across Europe too.
Could it be that this heat wave will be increasing bit by bit with time?
Hmm, my mind is beginning to wonder. heat wave code red.
Hmmm, let me not go far, I just hope it won't be doing that.
Obviously, red warning alerts was priorly issued by the met office about this heat wave but as an African girl, The news goes in from one ear and goes out through the other basically because I assumed that we are from a sunnier part of the world therefore, this can't be anything we have never experienced.
Little do I know that I am in to witness a record-breaking heat wave ever.
I slept all through the afternoon, hoping that by evening when I will leave to work, the heat wave must have passed or drastically reduced as usual.
But it didn't happen like that. It only dropped a bit from over 40°C (104 °F)
It was hot inside but manageable. Outside was so humid, no air and makes one feel like suffocating.
No wonder the met advised people to stay home if they have nothing to do outside, work from home if they can and avoid beaches and park parties.
This heat wave affected transportation especially Train services, caused fire, deaths and destroyed few properties such as the Luton airport runway that got melted by the heat. I'm sure you heard the news.
Anyways how I handled it.
Thankfully, I do make my smoothies in batches every week so I have a well frozen jars of smoothies to do the cooling job because I really needed something to be cooling my body as I travel to work. Therefore, I went back inside, grabbed a jar of my strawberry banana smoothie and my hand fan, now I'm ready. So, off to work. It was much better.
Heat wave can never beat an African girl because she's got the best ideas for it ever.
I am glad I have smoothies instead of going for ice cream because it was way much better and healthier.
Here is the link and also recipe on how to make strawberry banana smoothie my way, you will love it.
The 19th was exactly the same as the 18th July but the humid heat wave was milder, though it still blows hot air.
People imagined Why 40°C heat wave hits differently in the UK than other countries.
Here are my own observations that may most likely be the cause: –
1st UK is surrounded by water so when it is hot it becomes extremely hot due the heat waves that comes from the oceans surrounding the country.
2ndly, due to the cold seasons, Air conditioners were not installed in the houses. What we have is mostly the old heating systems that heats only but doesn't cool unlike the modern ones. As you already know, UK preserves the old buildings, which is compact and very conducive for cold because in those days it's a lot colder but it unfortunately provides a reverse effect during summer when the temperature rises above normal.
Note: Some people convert the old heating system to the modern heating system but it costs arms and legs to convert. So, we resort to mobile cooling systems to keep cool during summer.
The advantage of these mobile cooling systems such as fans and AC's is that you can pack it away after use or resell them to have your space back.
Will there be Another Heat Wave?
I don't know but I will welcome it if it comes because as an African girl, I am very ready now. Though, met office had already informed that another heat wave may not be completely ruled out.
How to survive during Heat Wave.
As an African girl, here are my few tips you can adopt to keep cool throughout the summer period, heat wave or no heat wave, because it will sure be hot somehow:-
Get fresh fruits picked at their peak, you can buy these from farmers market or shops. Freeze them, and then use whenever you like to prepare you some nice smoothies on the go. I prefer preparing mine in batches that way I never do run out all week. It stays and smells fresh. It is healthier than ice cream. (Include downloadable guide on how to store fresh fruits)
Prepare a refreshing ice-cubes you can pop into your ice tea to be sipping along the way, in case you don't like drinking ordinary water That way you stay super hydrated. (Ideas of tasty ice cubes)
Use heat blocking curtains or Thermal curtains as some may call it for your living space to help keep your room cool and cozy. (Ideas of tasty ice cubes).
It's no brainer that splashing cold water over your face helps during heat waves because it aids in blood circulation in conjunction with the heat wave flashing over your face. Cold packs can do the magic too if you are wearing make-ups.
Choose soft and light fabrics during summer, this will help reduce irritations and discomfort that comes with the heat. Even consider loose fitted wears to create additional comfort to the body which will reduce the risk of dizziness, fatigues and headaches.
That will be it for today's write up. Don't forget to follow us on our social media platforms
Here: TikTok
Instagram
And share with us how you become creative with the weather during the heat wave and your plans for the next one.