Hi welcome to the travel section of my blog. If you are ever thinking holiday asking yourself, what destination should I go to for my holiday or weekend escape that is affordable? Ask no more because I got you covered. Let's start with unveiling the vibrant charms of Manchester: A captivating 4-nights escape where I immersed myself in the vibrant atmosphere, rich history, and exciting attractions of Manchester. I will tell you all about the travel experience, the city walks, the food, night life and few packing, and saving tips. You do not have to bother about savings if you are already a bourgeois because I get it, all fingers are not equals.
Ok where do we start? 🙂
Let's start from the travel experience: –
This was an emergency trip because I wasn't planning on any trip but the way my guy showed up for it, I knew no wouldn't be an answer so I said, let's go! but then I completely forgot that the timing he chose fell into valentine week. That means more budget. Anyways we settled this by him agreeing to pay the travel ticket since it's his plan.
It was pretty easy to get an affordable hotel, thanks to booking.com but travel ticket wasn't that easy due to cost. It was valentine week. Prices were x3 both by Train and Flight except bus but it will be a long trip traveling by bus therefore, we settled to travel by flight since the difference from Train travel isn't much. Besides, it is faster and will arrive much earlier, giving us opportunity to fit-in an activity that same day.
As a traveller, I knew that one can get a cheaper travel ticket deal same day of travel than pre-booking, if you are not using a packaged deal but my guy disagreed with me insisting that we pre-book. Well, I do not blame him. Generally, most people believe this too. So, we went on with what he believed in.
Tips no 1- If your trip is not intentionally for any celebration like Valentine, Christmas etc. Avoiding travelling around these days is advised because both hotel and transportation will be extra expensive otherwise take this as what valentine trip travel experience feels like.
Packing for the trip.
I packed my baggage the night to my trip though I had already made a mental calculation of all I needed. I love to travel light and loves grabbing weather suitable outfits that will also be suitable to every planned activity. This is a no-brainer.
For the weather forecast as at when we travelled (February), It was a mixed weather situationship of cold, sunny and rainiyish. With sketchy plan of things to do, I had the following in my suitcase:
3 pairs of pants which included 1 cargo pant, 1 ordinary pant and 1 jegging.
1 pair of panty hose
1 little black dress
3 tops this is including the one I was to wear on the travel day.
1 cap for my hair, 1 scarf,
2 pairs of boots. Low heel and medium heel very comfortable for long walks.
Night wear, under wears, makeups, jewelleries all minimally packed to save space, and weight.
Tips no 2 – Always check-out the weather situation of your travel destination and make sketchy plans of things to do before you start packing. This will help you pack lighter and make your life much easier.
Trip to the airport drama
Shit! Almost half way to the airport, I realized that I forgot my passport on my counter as I dropped it to properly tie my shoe laces. It was an early flight. There was no timeline to getting back, fetching it and meeting up with the flight again. Ooopsy, that means we have missed the flight.
Meanwhile my guy was already at the airport waiting for me. We tried to change the timing to the last flight but they were charging us almost the same fee we paid for the ticket. The only way out is except it is on a condition of illness then we will get a chance to open ticket we can use next time so we took that option. Afterall, I was meant to book Doctors appointment anyways. This means we have to find another travel means. We then went for Train.
Remember that during pre-booking we were getting Train fee nearly the price of flight fee but guess what. Checking on the same day of travel, the price was slashed by 2x or more. So, we took it feeling even more blessed 😊
Tips no 3 – You have a higher tendency of getting cheaper tickets with last-minute moving flights or Trains because they will be more than happy to fill the empty sits up than leaving it vacant. I enjoyed these opportunities very well pre-covid era. Covid era actually changed a lot of things especially with flights but for cheaper price on travel day, it is still possible at certain times. Also, If you can avoid early flights, please do, so you can better manage emergencies though they always do come cheaper.
Food, Places and Manchester city walk – Day 1
Arriving at the hotel, I must say it was not what we expected. There was no WIFI and lighting in the room wasn't so bright. It looks very very old school but the consolation is the magic love they created for us in the room in tune with the valentine day.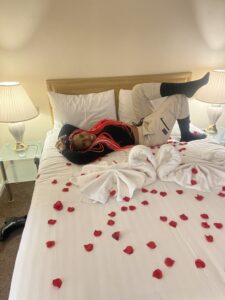 Another big consolation was the fact that it was really affordable and situated at the heart of the town making moving around town easier and very accessible. We graced the city with a welcoming walk around Portland Street all the way to the Arndale shopping centre then ended the evening at a Greece restaurant adjacent the shopping mall where they served us a wonderful Greek meal.
Afterwards, we embarked on a short late-night walk through the heart of the city's artistic and cultural scenes with street arts, galleries and charming independent shops back to the hotel.
Tips no 4 – Always digest the picture displays of the hotel rooms well from the website, read the amenities part to make sure of the things they stated they offer so that you can claim your money back if they default or not book it at all because sometimes it's not all about cheapness but also comfort.
Day 2
It basically seems like a foody and fun day today. We visited an old friend, after catching-up and playing snooker game at his house. He suggested a brunch at an old train station converted to a pub. It was nice and quiet there. From there we proceeded to a Turkish restaurant that he believed to be one of the very good ones around called Sultanahmet Grill, it was good as claimed. We tasted his favourite dish which was lentil soup.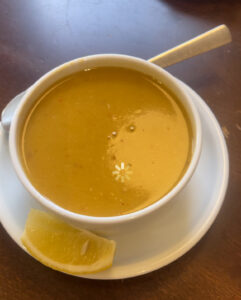 It was delicious. From there we continued the city exploration back to the City centre. This time at the bowling place where we played different kinds of games till dark. We had little more night wandering, he pointed out some dangerous areas we should be careful around as there are pockets of gang boys there. From there we saw him off to the bus stop and went back to our hotel room completely exhausted and fulfilled.
Day 3
I had always wanted to do kart racing so there we go. This one wasn't cheap but it was worth it. We had fun with it but heads-up, make sure you know how to ride else they will kick you out and there is no refund for that. Though it is for safety purposes because they did kick me out during the 2nd round. From there we continued walking and exploring the city, visited amazing places like the flight club, The point blank, and dinner at Gusto, they honestly have a very good steak.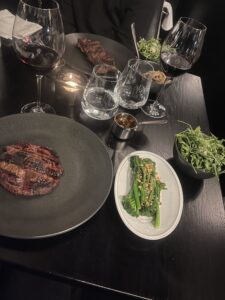 It was fun. We got back to our hotel room at quarter to 1am really exhausted and happy. Here is the video of things to do in Manchester to get a feel of these places and activities. click here.
Day 4 – This was our final day; we didn't get the time to go anywhere because the hotel tried to kick us out at 10am claiming they informed us while checking in, that their check out time is 10am but this was not true besides, this is the earliest check-out time in the history of my travel. It is usually 12pm or 11:30am. Well, we fought to stay till 12pm as we weren't told anything like that on arrival. It was really embarrassing I must say, The knocking at the door and all that. However, I was already upset and couldn't relax to taking a cool check-out, we vacated the hotel before 11:30am. Thankfully I already had my breakfast but my guy didn't so we grabbed breakfast at this lovely spot
before we headed to the train station. Return ticket purchase was easier than when we were coming and affordable too. So, this is bye Manchester.
Final tips – It seems Manchester has a unique checking-out time judging from our experience in this Britannia hotel therefore, always verify the check out time to avoid embarrassment like we experienced.
In conclusion, I will say that Manchester is a city filled with great history, culture and undeniable energy. It has left an indelible mark on our hearts. No matter your class, there is a unique special package of a spot that will satisfy your need. The artistic nature of the town, vibrancy, colourfulness, assorted food, night life, is all beautiful to behold and worth experiencing. This video will give you more clue of how the city walk feels like and more. Click here.