Hi, it's another day in the paradise of Tellasis.com 😊, How are you today and welcome back to my blog page. If you don't mind me asking, where are you from and What is your understanding of mental health? While you are thinking about that in your head or commenting at the comment section, I have another one for you.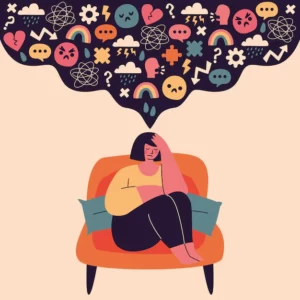 Have you ever been going through some kind of mental health challenges maybe due to challenges you're facing at home or at work place or with someone and you try to discuss that with an African. In my case as a Nigerian, I will say, Maybe, telling them how it is causing you mental health issues such as depression, heart attack, anxiety and so on.
What do you think their reaction will be or what was their reaction? I am really curious to know.
Please let me know at the comment section.
I am guessing most of them may or will deflect on you especially those of them that haven't really experienced mental health challenges in that capacity or have gone through it but because of the understanding of mental health in Africa, they may not know it is an effect of mental health illness. Most times those that lacks this understanding are Africans living in Africa and few in the diaspora.
In Africa if you tell most people that you have mental health issues, Majority of them will start avoiding you because to them it simply means that you are mad, I mean really crazy, and mad people are not to be played with because they are unpredictable. That is the reason their first instinct is to avoid you before it will end in story telling that will result in, "don't you know this person is mad"?
Another reaction you may get is likely to be an assumption that you are playing things up or being over dramatic over simple issue. In this case, they may raise their own story to justify that they have been there too. Meanwhile, they have little or no idea of what you are mentally and emotionally going through.
They do not understand that mental health includes those unseen symptoms like severe anxiety, heart attack, panic attack, depression, severe migraine etc. which may contribute to severe body deterioration over time, that may lead to terminal illness or complications in the body that may take a long time to heal and may sometimes lead to death.
I can hear you asking, why?
Great question. It is simply because they do not have full understanding of what mental health really is and its full capacity as it is known in the western world. But this is not surprising because the cultures are completely different.
For instance, In African there is a more communal lifestyle culture than in the western world where it is more like mind your own business lifestyle settings. Therefore, the effects of mental health illness are likely to take different tolls in these environments.
Let's Use Mohbad's Bully experience and Mental Health as a casing point here.
The demise of Mohbad has exposed the reality of the struggles most African's casing Nigerians are facing when it comes to mental health especially mental health issues caused due to bullying.
Bullying is an aspect of mental health that is really downplayed in Africa yet it is everywhere and can clearly be seen and be felt. This is the reason why Mohbad tried all he could to speak up about his experiences of bullying that was draining life out of him while he was still living but no one could help him because people barely really fully understand the effects of bullying to the body and soul of the victim. He shared his experiences with friends, colleagues, the police etc. Even made music around it. Unfortunately, everyone was listening and dancing to this voice crying for help but no one was really hearing him until he died.
And this is the reality of many other cases that we never or may never really hear about, unless we stand up and start doing something about understanding mental health, what it really is and its effects.
It is in Africa that you will see a family consisting of only three siblings but they all have different experiences from their upbringing from the same parents, Effects undertone inhouse bully.
It is only in Africa you will have talent, great talent but you can't shine because your parents are nobody, even though you choose to struggle to make it, most times it will be like a needle passing through the camels' eyes. That means, very difficult. Again, undertone societal bully.
It is in Africa that you will find a destiny Helper but that Destiny helper becomes an unusual Destiny Destroyer because it is all about them and not you forever dominance and control otherwise, heaven will lose. Exactly the case of Mohbad, Again, undertone work bully.
These gaps in understanding mental health and its challenges have made it really difficult for people to actually take step to show deep empathy, deep love and continuous support to someone who is going through severe circumstances at the right time without bias, especially when it involves those at the lower classes. Those who don't have voice to speak for themselves.
This is the reason why mental health should be taking seriously especially mental health relating to narcissism and bullying.
What does mental health really mean?
Mental health refers to a person's condition with regards to their psychological and emotional well-being. It is not just the absence of mental disorder, but it is a state of well-being in which every individual realizes his or her own potential, can cope with the normal stresses of life, can work productively and fruitfully, and is able to make a contribution to her or his community.
When there is a distortion to the mental health ability to be in the state described above, it becomes Mental Illness.
Mental Illness is thereby a disorder that affects a person's thinking, mood, and/or behaviour.
According to the National institute of Mental Health, they said that nearly one-in-five adults live with a mental Illness.
The term "madness" as we Africans refer to this condition is an old-fashioned way severe mental illness was called. But it is not a medical term and it is no longer used to express mental illness.
Rather, there are different types of mental illnesses which can be diagnosed by the mental health professionals based on specific criteria according to the DSM manual which includes insanity, personality disorder, narcissism, crack up, craziness, delusion and maybe more.
With the above explanation, I hope you now have at least a little understanding of what mental health is and what it is not.
I hope we all can be more open to stand up against mental health disorder especially Narcissistic bullies either by recognizing it in ourselves and seeking help or recognizing it in others to help those around them suffering from its effects.
See you in the next article for more about narcissistic bullies and their behavioural traits.
Bye for now.
Enjoy the read?
You can also find us on
Here: TikTok
Instagram
Let's connect.